What is Blade Buddy?
The inspiration behind Blade Buddy came from inventor Celso Martell's visit to a local butcher shop, where he noticed the butcher sharpening his knife by running it along a steel rod, in a similar fashion to traditional barbers who use leather strops to sharpen their razors. Mr. Martell wondered whether it would be possible to develop a similar tool for disposable razor blades, and after 5 years of research and development, Blade Buddy was conceived.
With every shave, razor blades lose their sharpness and gradually wear out. The action of pulling a razor against the skin causes the blade's cutting edge to curl. Invisible to the naked eye, over time this tip rounding makes shaving less and less comfortable, often resulting in nicks, cuts, razor burn and ingrown hair. Blade Buddy's patented, grooved silicone surface effectively straightens these microscopic bends back into alignment, so each time you shave your blade is the best that it can be.
With Blade Buddy, every shave is smoother and more comfortable, regardless of the razor you use, and your skin is protected from irritation caused by dull blades.
Check out this short video to learn all you need to know about Blade Buddy: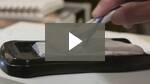 What are the benefits of Blade Buddy?
Makes every shave smoother and more comfortable.
Protects skin against redness and irritation, ingrown hair, nicks and cuts.
Keeps blades sharper, longer, saving you money and reducing waste.
Quick and easy to use.
How do I use Blade Buddy?
Before shaving, lubricate BLADE BUDDY with a thin layer of shave cream or liquid soap.
Position razor blades flat on silicone pad.
PUSH RAZOR FORWARD, with moderate pressure and speed, UP the BLADE BUDDY surface.
Lift razor at the end of each pass and REPEAT 15-20 times.
FOR BEST RESULTS: Shave after or at the end of a hot shower. Avoid pulling razor backwards, or towards you, along silicone pad.
Can Blade Buddy restore my old, dull razor?
Blade Buddy is designed to maintain the sharpness of new or like-new razor blades. It is not recommended for use on dull, worn-out blades.
Will Blade Buddy work with any razor blade?
Yes. Blade Buddy works with all men's and women's blades, including disposables.
How can I best maintain my Blade Buddy?
Simply rinse Blade Buddy after each shave. It's that simple.
How long will my Blade Buddy last?
As long as you follow the instructions, Blade Buddy should last for at least a couple of years.